At the bottom of the page I'm also offering a bonus giveaway - don't miss it!
Welcome to YA Scavenger Hunt! This bi-annual event was first organized by author
Colleen Houck
as a way to give readers a chance to gain access to exclusive bonus material from their favorite authors...and a chance to win some awesome prizes! At this hunt, you not only get access to exclusive content from each author, you also get a clue for the hunt. Add up the clues, and you can enter for our prize--one lucky winner will receive
one signed book from each author on the hunt in my team
!
But play fast: this contest (and all the exclusive bonus material) will only be online for 72 hours!
Go to the YA Scavenger Hunt page to find out all about the hunt.
There are SIX contests going on simultaneously, and you can enter one or all! I am a part of the
Gold Team
--but there is also a red team, a blue team, an orange team, a red team, and an indie team for a chance to win a whole different set of signed books!
If you'd like to find out more about the hunt, see links to all the authors participating, and see the full list of prizes up for grabs, go to
the YA Scavenger Hunt page
.
SCAVENGER HUNT PUZZLE
Directions:
Below, you'll notice that I've listed my favorite number. Collect the favorite numbers of all the authors on the
Gold team
, and then add them up (don't worry, you can use a calculator!).
Entry Form:
Once you've added up all the numbers,
make sure you fill out the form here to officially qualify for the grand prize
. Only entries that have the correct number will qualify.
Rules:
Open internationally, anyone below the age of 18 should have a parent or guardian's permission to enter. To be eligible for the grand prize, you must submit the completed entry form by
October 5th
, at noon Pacific Time. Entries sent without the correct number or without contact information will not be considered.
Now let's move on to the author I'm hosting today:
Sara B. Larson can't remember a time when she didn't write books--although she now uses a computer instead of a Little Mermaid notebook. Sara lives in Utah with her husband and their three children. She writes during naptime and the quiet hours when most people are sleeping. Her husband claims she should have a degree in "the art of multitasking." When she's not mothering or writing, you can often find her at the gym repenting of her sugar addiction.
Sara is promoting IGNITE (sequel to DEFY) during this hunt. Here's the cover: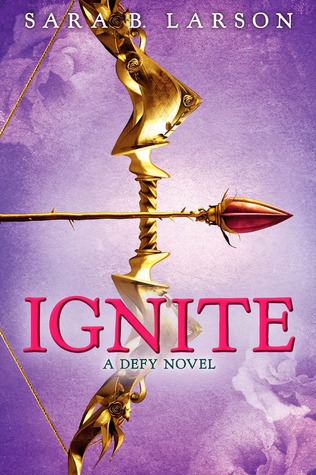 Summary (spoilers for anyone who hasn't read DEFY):
In the kingdom of Antion, peace has at long last been restored. Now that King Hector's reign of terror is over, the newly crowned King Damian, along with his most trusted guard, Alexa, must focus on rebuilding Antion and reclaiming the hope of their people. But the wounds of the past are no as easily mended as Alexa and Damian had hoped. And to further complicate matters, Alexa still harbors a secret love for Damian, a love she refuses to acknowledge for the sake of Antion, and for the sake of the king himself.

When new threats to the kingdom surface—including an assassination attempt on Damian—blame is cast on the once-friendly nation of Blevon. Alexa knows things are not what they seem, however, and once again the fate of her country hangs in the balance. Will Alexa be able to protect her king and find the true enemy before it's too late?

Filled with romance and treachery, magic and violence, this stunning sequel to Defy whisks readers off on another thrilling adventure.
IGNITE comes out January 6th, 2015 from Scholastic and
here's the link to order a signed copy of DEFY or pre-order a signed copy of IGNITE from Sara's local indie, The King's English.
BONUS CONTENT
Sara offers

a new scene, pre-DEFY, told from Alexa's POV when she was 8.
++++++++++++++
The fire behind the grate hissed and crackled, a soft addition to the sound of my parent's voices, their words a low hum in the semi-darkness of our home. Mama thought I was asleep, with my head in her lap, but I wasn't. I wanted to hear what they had to say. Though the brush of her fingers through my hair was making me very sleepy. I had to crack one eye barely open, just a slit, to keep myself from accidentally drifting off.
Papa was a shadow silhouetted against the orange light of the flames. He sat on the ground, the sword he'd been sharpening earlier now resting in his lap. His fingers were curled around the hilt, almost as if he expected someone to burst through the door at any moment.
"You shouldn't allow her to train with you. It isn't right," Mama was saying. Which was why I'd worked so hard to stay awake: they were talking about me.
"She's a natural. And she wants to learn. Why would I refuse? Because she's a girl?"
I felt Mama nod, all the way down through her hand as her fingers paused on my head.
"That's not good enough for me," Papa said. "She doesn't have to be helpless. I want my daughter to be able to defend herself."
"She doesn't need to be able to defend herself. She'll have Marcel once he's trained. She has you." Her fingers began to slip through my hair once more, but I could feel a tension in her touch that hadn't been there a moment before.
"And what if something happens to me? What then?"
"Nothing is going to happen to you," Mama's words were suddenly fierce. It was the voice she only used when she was really upset. "You are the best—"
"That's no guarantee," he cut her off. "Not if the rumors are true." Papa gently set the sword down and stood up. As he crossed to where I lay with my head in Mama's lap, I quickly shut my eyes. "Nailah, did you ever meet one of them before your family left?"
Every part of Mama stiffened at his question. "You mean…" she trailed off, almost like she didn't want to say the words out loud.
"A black sorcerer. When you lived in Dansii, did you ever see what they can do?"
There was a weighted silence, like the breath before the rain began to pour from the sky. And then Mama murmured, "You know we did. You know that's why we left—why my father brought us here, to Antion."
Papa sat down beside us, lifting my legs to place them across his lap, and letting his hands rest on my calves. I couldn't feel the callouses I knew marked his hands through the rough, homespun fabric of my nightgown. When he trained with his sword, I couldn't help but long to be like him. Papa wielding a sword was an extraordinary kind of magic that I wanted for myself. It was a strange ache, deep inside of me. Almost like the way I felt when I hadn't eaten for too long and my belly was so empty, that I wanted to devour all the food on the table all at once.
Papa lifted one hand from my leg and let it rest on top of Mama's fingers that still pressed into my hair. "I will continue to train her, Nailah. And she will prove to you and everyone else that she can be just as good if not better than any boy. There's something special about her…." He trailed off.
"You don't think that she's…" Mama's voice had gone soft, hushed.
"No. No, she's not. But I can sense something. Something more than normal. She's special, Nailah. Alexa is my little Zhànshì Nánwū."
His words rang in my ears long after he lifted me and carried me to my bed beside Marcel. I didn't know what they meant, but for some reason, it made me feel warm inside, right next to my heart.
Like maybe, just maybe, I could claim his magic for myself. Someday.
+++++++++++++++++++++
And don't forget to enter the contest for a chance to win a ton of signed books by me, Sara B. Larson, and more! To enter, you need to know that my favorite number is
5.
Add up all the favorite numbers of the authors on the
Gold team
and you'll have all the secret code to enter for the grand prize!
BONUS GIVEAWAY
As I mentioned above I'm also having a
Bonus Giveaway
! I'm giving away one signed hardcover of DEFECTOR (left image) and one UK copy of DEFECTOR (right).
a Rafflecopter giveaway
CONTINUE THE HUNT
To keep going on your quest for the hunt, you need to check out
Rachele Alpine's website!